Frequently Asked Questions (FAQ) Checking and Savings
You've Got Questions, We've Got Answers.
The answers to many common questions are summarized below.
Frequently asked Checking/Savings Questions and Answers
Where do I find Pilot Grove Savings Bank's routing number, account number and check number on a check?  Refer to the sample check below: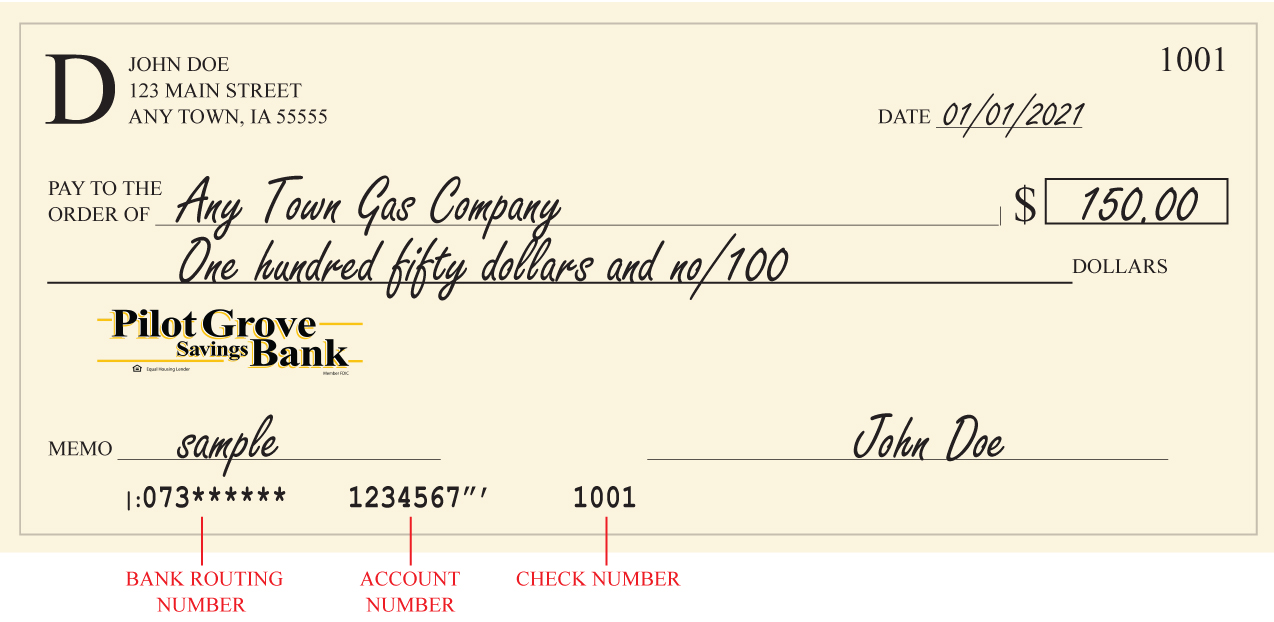 What is the cut-off time for processing deposits? 4:00 pm. Anything after 4:00 pm will be processed on the next business day.
How do I change my address on my account? Call or stop in to your local branch. 
How do I set up Direct Deposit of my payroll check?  After you have an open checking account with Pilot Grove Savings Bank, you will receive our routing/transit number and your account number. If your employer participates in a direct deposit program, simply provide this information to the human resources or payroll department at your company.
What's required to apply for a checking or savings account?
Current government issued photo ID (examples are drivers license, military ID, passport, or U.S. alien registration card, social security card and birth certificate for minors).
Copy of a utility bill, paycheck, or vehicle registration are just a few examples of what could be provided to verify your address if it does not match your government issued photo ID from item 1 above.
Social Security Number.
What are your current interest rates on deposit accounts? We do not post our rates online, but if you call your local branch we'd be happy to give them to you over the phone or email/mail them to you.
How do I reorder checks? Call or stop in to your local branch.  
Didn't Find the Answer to Your Question?

---