History
Humble Beginnings in Pilot Grove, Iowa in 1911
{The building on the left photographed above captures a glimpse of what Pilot Grove Savings Bank looked like on April 12, 1916}
23 Investors Pooled $10,000 to form Pilot Grove Savings Bank
Pilot Grove Savings Bank was established on May 12, 1911. Twenty-three investors pooled a total of $10,000 to start the Bank and set up business in a small building on the western side of the only street in Pilot Grove, Iowa. Since that day, the Bank has continued to grow and prosper, serving customers in the Bank's Southeast Iowa area as well as many other locations across the country.
The Home Office in Pilot Grove went through many Expansions
In 1951, the original structure was expanded. In 1962, the Bank virtually doubled in size as an additional wing was added to the facility. The structure was presumably completed 21 years later in 1983, with a second additional wing on the south side of the building. In 2007, construction again began on the main bank in Pilot Grove, this time with an addition to the building's north end. While the original Pilot Grove building has continued to expand over the decades, the institution itself has grown with the addition of branch offices in ten neighboring towns.
A branch office in Houghton was opened in 1980, and branches in Donnellson and West Point were added in 1983 and 1992, respectively. In December 2000, Pilot Grove Savings Bank acquired branches in Mount Pleasant and Packwood and in July 2004, an additional branch was acquired in Winfield. In November 2011 two bank branches in Fort Madison were obtained, in December 2013 three bank branches in Keokuk were acquired, in September 2014 a brand new branch opened its doors in Fairfield, and most recently in January 2020 a branch opened in West Burlington. All branch offices offer our customers up-to-date products and services with increased convenience.
Founded on the Core Values of Trust, Loyalty & Commitment 
With customer loyalty on its side, Pilot Grove Savings Bank has prospered throughout the years despite the depression during the 1930's, countless recessions, and rapidly fluctuating farm economies. Now, into the 21st century, with more than 100 employees, more than $700 million in assets, and some of the most technologically advanced banking systems available, the institution's main goal remains as it was in 1911 – to serve the customer well.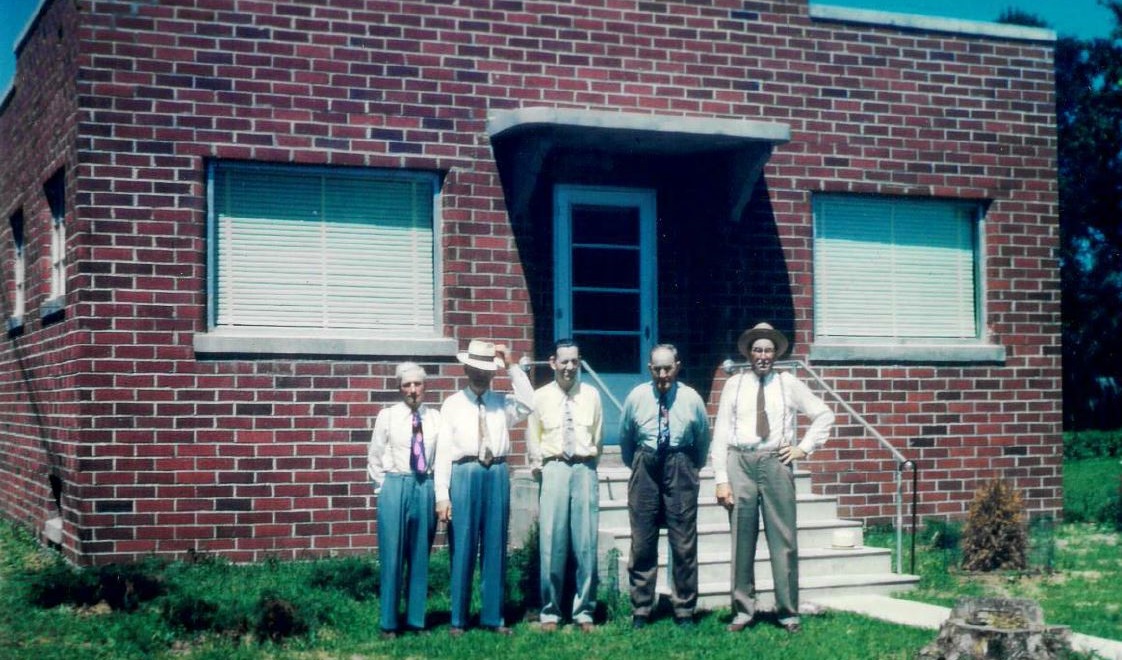 {The above photo is the second Pilot Grove Savings Bank building in Pilot Grove, Iowa. Photographed are Frank Overton, Joe Nichting, Joe Steffensmeier (cashier), Theodore Schinstock, and B.J. Holtkamp.}
---